LifeCare
Need help? Call the LifeCare Hotline at 785.435.9405
We want our church to strive to meet individual needs through relationships with others in the community (i.e. small groups, volunteering, worship services and special events). When additional care is required beyond these important community environments our LifeCare Network is ready to walk with you through life's unique circumstances.
Frank Eschmann is our LifeCare Pastor and he is available during the week to help you if you need it. Please call the office at 785.478.0002 or email Frank at
---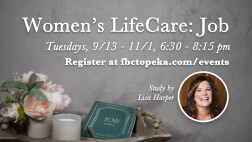 Women's LifeCare Study: Job | Tuesdays, Sept. 13th – Nov. 1st | 6:30pm – 8:15pm
Joy is the constant companion of the woman who trusts in the Lord. And while you can find it in friends, family, and circumstances, unfailing, persistent joy will only ever overflow from your relationship with Jesus. Just ask Job, the man from Uz who clung to God's goodness while all his worldly joys were stripped away.
But how is it possible to hold onto such joy in times of sorrow?
In this 7-session study by Lisa Harper, discover the redemptive facet of Job's suffering. Learn to view pain as a way to strengthen your faith, point others to the gospel, and trust in the Lord. Because His providence will never take you to a place where His grace will not sustain you.
To register, click here
---
DivorceCare |Tuesdays, Sept. 6th - Dec. 6th | 6:30 PM - 8:15 PM
DivorceCare is a Christ-centered support group designed to offer encouragement and biblical teaching for those who have experienced divorce. Divorce is one of the most painful life events a person can go through. In DivorceCare you will get the unique support you desperately need! In a world that now looks very different than it once did, you will be with others who all speak the same language as you. DivorceCare was created to provide the unique support and encouragement by those who've also experienced divorce or separation. In a time of deep hurt and confusion, it will be the best thing you will do for yourself.
To register, click here
---
GriefShare | Tuesdays, Sept. 6th - Dec. 6th | 6:30 PM - 8:15 PM
Grief is a very personal experience, and no two people grieve the same. GriefShare is a safe place where you can come to find support, encouragement, and comfort as you learn about your new reality and what the God of the universe says about our why's, our anger, our anguish, and possibly our guilt. Sessions include personal reflection and group interaction encouraging one another and learning about the grieving process.
To register, click here
---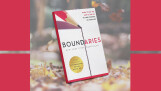 Do you have trouble saying no? Can you set limits and still be a loving person?
Healthy relationships and sound living depend on maintaining effective personal boundaries.
BOUND|ARIES is a study written by Drs. Henry Cloud and John Townsend. During the nine weeks they will uncover the secrets to cultivating the habit of setting and maintaining healthy boundaries that provide the framework for rich, productive relationships.

This is a study for fostering spiritual maturity and emotional growth.
What to expect:
Discover new & effective ways to deal with hurtful people
Change unwanted behaviors
Reach God's potential for your life
To register, click here
---

Conquer Series for Men | Thursdays, Sept. 15th – Dec. 8th | 6:30 PM - 8:15 PM
Try Smarter Not Harder!
The Conquer Series, unrivaled in its scope and authority, is not about behavior modification, but heart transformation. This life-changing, discipleship curriculum provides insights from top Christian leaders who lay out biblical strategies, scientific facts and teach men to use God's weapons to become conquerors! LifeCare is offering this twelve action-packed weeks of Biblical teaching in a confidential safe environment to help men walk in sexual integrity.
Discover how to renew your mind and break destructive patterns
Explore strongholds that keep men in bondage
Examine the neurochemistry of addition
Discover the weapons and strategies to prevent relapse
Study practical daily techniques to remain free
To register, click here
---

Anger Management | Tuesdays, Sept.13th – Nov.8th | 6:30 PM - 8:15 PM
Anger: Our Master or Our Servant
This study addresses the emotional, physical, and spiritual aspects of anger and its effects on everyday life.
Anger Management offers practical, biblical tools that can be used by anyone who is seeking concrete ways to handle anger, identify and communicate feelings. You can live in freedom from anger, one day at a time!
To register, click here
---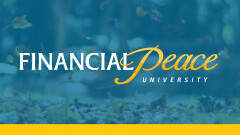 Financial Peace University | Tuesdays, Sept.13th – Nov.8th | 6:30 PM - 8:15 PM
What if you were following a plan for your money that you KNEW worked? With Financial Peace University, you CAN take control of your money, get out of debt, and create a plan for your future. If you're interested in learning more about the group, call us! We're offering it this fall just for you!
To register, click here
---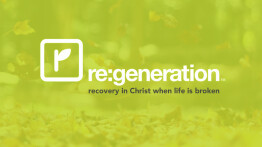 Re:Generation | Tuesdays | 6:30 PM - 8:15 PM
Find freedom from co-dependency, pornography, addiction, eating disorders, anger, depression, abuse, same-sex struggles, and more. Your struggles can be overcome. God has something new for you. Come and your life will never be the same.
Registration coming soon!