Local Outreach
Outreach Mission: Mobilizing the church to help people find and follow Jesus Christ in our city and among the nations. (Matthew 28:18-20)
Focus Area: Topeka


Love Topeka is the umbrella name for a variety of initiatives to love our neighbors in Topeka. Our strategy is to partner with local organizations and to discover, develop, and deploy our own leaders who have a conviction and passion to love and bless our City for the glory of Jesus Christ.
If you have a specific idea for serving Topeka and are willing to be equipped to lead it, please contact Brody Lumpkins at .
Listed below are some of our current serving sites. Please reach out to the listed contact person for more information and to get connected to serve.
---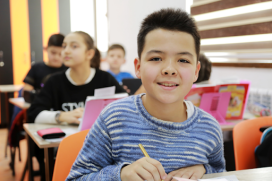 Topeka Public School Initiatives
Bless Ross Team
The Bless Ross Team supports and encourages the staff at Ross Elementary School through monthly "blessings," such as notes of encouragement, food, and fun, seasonal displays.
For more info and to volunteer, contact Team Leader Brody Lumpkins at
The Bridge of Topeka: Lunch Buddies and Life Buddies
Show up, Listen, Love and Pray: become a Lunch Buddy and spend 30 minutes over lunch each week with a child who needs a friend. And coming in the 2021-22 school year, watch for the new LIFE BUDDIES mentoring program for kids based on a proven model of mentoring that disrupts the cycle of generational poverty by starting earlier, going deeper, and staying longer.
Watch this 3-minute video to learn more: https://www.bridgeoftopeka.org/upriver.html.
For more info and to volunteer, contact Director Chris Stewart at or 785.215.7735.
Sharefest
On one Saturday morning each Spring a partnership of multiple churches and organizations serve Topeka Public Schools and Seaman Schools through landscaping, painting, construction and clean up of school grounds. By working together, we demonstrate the love of Christ and serve the community with no strings attached. Watch this highlight video of 2021 at sharefesttopeka.com
For more info and to volunteer, contact Angie Stewart,
United Community for a Successful School Year
In late summer we partner with multiple churches to hold the United Community for a Successful School Year event to offer school supplies and a community resources fair.

Watch for more info this summer, or contact Angie Stewart, .
Young Life
Young Life's mission is to introduce adolescents to Jesus Christ and help them grow in their faith.​ Young Life has leaders and clubs in several area middle and high schools, as well as at Washburn University.
For more info and to volunteer, contact Topeka YL Director Kyle Brown, .
---

Foster & Adopt Ministries
Fellowship Foster and Adopt
We want to recognize God's heart for children from hard places and answer the call to foster & adopt them. Fellowship Foster and Adopt educates, equips and supports foster and adoptive children and families in ways that lead them to Jesus and helps support them through their entire journey.
For more info and to volunteer, contact Team Leaders Scott May, or Erin New,
To apply for a grant to help with the cost of adoption, click here
Foster the Cause
Foster the Cause bridges the gap that exists between the church and the state by recruiting, training and offering ongoing support to new Christian foster and adoptive families through the local Church. They partner with child-placing agencies (CPAs) and walk with families through what can be a confusing process.
For more info and to volunteer, contact Jared Broyles at
Lifeline Children's Services
Lifeline Children's Services empowers families to choose the best life-giving option for them and their unborn child. connecting them to resources, parenting support, adoption planning, and post-placement support.
For more info and to volunteer, contact Jessa Swearingen at .
---
Justice Ministry
Topeka J.UM.P.
Topeka JUMP (Justice and Unity Ministry Project) is a partnership of 31congregations in Shawnee County that uses 3 processes to love our community and pursue justice: 1. the Listening Process through house meetings, to discover what local issues are barriers to people flourishing, 2. the Research Process to come up with solid, fact-based solutions by talking with experts, and 3. the Investment Drive to celebrate community wins and raise support for further work. The video below explains what God says about JUSTICE:
For more info and to volunteer, contact Brody Lumpkins at
---

Prison Ministry
Kairos
Kairos addresses the spiritual needs of incarcerated youth by sharing the love and forgiveness of Jesus Christ to change hearts, transform lives, and impact the world.
For more info and to volunteer, contact Mitch Miller at
Prison Fellowship
Prison Fellowship seeks to share the real, living hope of the Gospel with people who long for its power to make them new.
For more info and to volunteer, contact Patricia Hamilton at
---

Community Development
S.E.N.T.
S.E.N.T. (Strengthening and Equipping Neighborhoods Together) intentionally walks beside neighbors through loving relationships and strategic development to accomplish the holistic transformation of neighborhoods in Shawnee County.
For more info and to volunteer, contact Nikki Ramirez-Jennings,
---

Ministry with Those Living in Poverty
Topeka Rescue Mission
TRM brings help and hope to our homeless and impoverished neighbors in Topeka. They offer shelter, food, job readiness classes, and more.
For more info and to volunteer: Rebeka Boydston at .
Let's Help, Inc.
Let's Help is committed to helping people achieve self-sufficiency and break the cycle of poverty. They offer services such as food, clothing, employment help and GED classes.
For more info and to volunteer: Donna Verdejo at
---

Long-Term Care Communities:
Ministries of Presence, Love and Prayer
Legend Senior Living
For more info and to volunteer, contact Chantel Smith at
McCrite Plaza Topeka
For more info and to volunteer, contact Becki Copeland at