Financial Stewardship
The Financial Stewardship Ministry is designed to meet the holistic needs of those in our body and community who are enduring hard times. The vision of this ministry is to walk with people through tough situations, and offer financial support and guidance, counseling and Christ-centered mentoring.
If you are experiencing financial hardship and need help, we would love to walk with you and help you. Please call our office at (785) 478-0002 and ask for Pastor Frank Eschmann.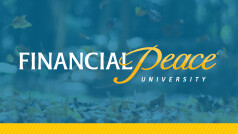 Financial Peace University | Tuesdays, Sep 7th to Dec 7th | 6:30 PM - 8:15 PM
What if you were following a plan for your money that you KNEW worked? With Financial Peace University, you CAN take control of your money, get out of debt, and create a plan for your future. If you're interested in learning more about the group, call us! We're offering it this fall just for you!
Registration coming soon!
Pocket Watch Budget Coaching
With Pocket Watch, you will meet monthly for six months with a Christ-centered budget coach to put into practice God's plan for money. A coach will help you use effective financial tools to get control over your spending.