Give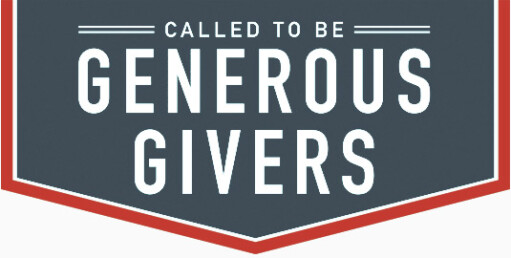 When you give to God, you are honoring God. And God is worthy and deserving of our honor!
"Honor the Lord with your wealth and with the firstfruits of all your produce..." Proverbs 3:9


God's plan for generosity to others is you! He invites us to give regularly and generously so that our church can serve and minister to others!
"Command them to do good, to be rich in good deeds, and to be generous and willing to share." 1 Timothy 6:18
Every dollar given at FBC is used to help provide not only spiritual outreach, but also food, clothing, clean water, and education to those in need in places like Central America, India, the Dominican Republic, the Philippines, and Ethiopia.


God loves giving to you and seeing you give. The truth is very clear from God's Word; God rewards those who give generously. Don't miss out on the many blessings and eternal rewards God has for you.
"Bring the full tithe... put me to the test, says the LORD of hosts, if I will not open the windows of heaven for you and pour down for you a blessing until there is no more need." Malachi 3:10



• Decide you will give something. Every gift given honors God and truly makes a difference. Everyone should give something. Don't miss out! Decide to get started!
• Give God your first and best... with expectation. Giving is an act of worship. God deserves our first and best rather than our last and leftovers. Know that God will take what you give Him and use it powerfully in the lives of people.


• Pray for God's direction. Trust God with any fears about giving.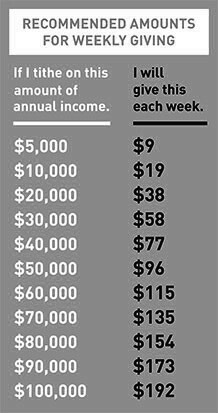 He will guide you to give both generously and responsibly, and only according to your ability.
• Give a percentage of your income. God owns everything and has given us everything we have. Throughout the Bible, people were asked to give a percentage of all He gave them. Give according to what you've been given.
• Make tithing your long-term goal. A biblical goal for giving is the "tithe", which is 10% of your total income. 10% is ideal, but start somewhere, give something, and give regularly. 10% is not the reality for everyone as they begin their giving journey. However, give an amount that reflects your love for God.
• Commit to an amount. This chart will get you started. Select an amount that is generous, yet responsible, with your current circumstances in mind. Remember, if you cannot tithe right now, simply go to the second column and prayerfully determine the "best" amount for you. Later, as you are able, you can progress to higher amounts. Think of giving as an investment with a return on the amount you invest.
Note: To tithe on higher income, simply add rows from the chart together. Or, divide your annual income by 10, and then divide that amount by 52 to get your weekly amount.


Although we pass a weekly offering basket, we believe an ideal way to give is online with a weekly recurring gift. There is not a more convenient and consistent way for you to give. Giving this way honors the guidance from Paul in 1 Corinthians 16:2: "EVERY week, each of you is to put SOMETHING aside..."
Once set up, your gift will be automatically sent from your account each week or on a frequency you select, and this is much simpler and easier than writing a check each week and it faithfully builds generosity in you.
Go online to www.fbctopeka.com/give to sign up. It's simple and quick. You'll need just three things: 1) Your amount. 2) Your frequency, i.e. weekly. 3) The account number and ACH number found on one of your checks.


God loves a cheerful giver! – 2 Corinthians 9:7
Once you set up recurring giving, take time to thank God and worship him for using you in His work. Celebrate with your church how God is using us in our city and the world to advance His kingdom by making disciples of Jesus Christ. And know that being one of our Generous Givers is very appreciated by those who work so hard in ministry at Fellowship Bible. We appreciate you!